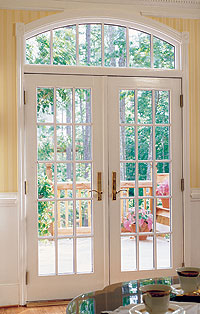 © Photo Courtesy Andersen® Windows
Let there be light...
And there was light
Energizing rays from morning 'till night
Warm our souls and hearts with delight
This sunny house few words can describe
The great feeling we have when living inside
Apart from providing essential sunlight, views, emergency access, and a sense of spatial openness, quality windows and doors provide superior protection from the elements, energy efficiency, sound isolation, trouble-free operation, pleasing aesthetics, and minimum maintenance. With so many styles, shapes, and sizes on the market, selecting windows and doors is a daunting task for even experienced designers. But the benefits of selecting the right window company are many: recent advances in window technology, materials, and glass are yielding superior products to those just a few years ago, offering excellent long-term energy efficiency with virtually maintenance-free exteriors.
After extensively studying, comparing, and evaluating most leading window brands, I have yet to find a window manufacturer that has incorporated all of my favorite features into a single product line. However, in just the past few years, the gap is closing quickly as the highly competitive fenestration industry grapples with increasing energy efficiency and demand for low maintenance and architectural flexibility. Gone are the days when windows were just an afterthought -- a requirement for basic ventilation. Today, windows have become the centerpiece of architectural flair. Whether you prefer the traditional look of an all-wood window, the low maintenance of vinyl or aluminum, or even the newer fiber-reinforced windows that stand up to extreme elements, hundreds of exciting choices and styles exist to suit every taste.
As one of the country's largest window producers with over 100 years of innovation to its credit, ANDERSEN windows and doors (shown above) have a long-standing reputation for quality and value due to their low-maintenance vinyl exteriors, warm wood interiors, and 20-year glass warranty -- all at a competitive price. However, not all lines offer custom sizes, which often limits their use to new construction or major remodeling.
A new line sold and installed by a nationwide network of Andersen-approved dealers, RENEWAL BY ANDERSEN, addresses the window replacement market that requires custom sizing. The Renewal line offers a range of common window styles (including 13 specialty shapes) with a Fibrex® frame -- a material with thermal conduction performance comparable to vinyl and over 700 times more energy efficient than aluminum (in terms of the frame itself).
According to Andersen, Fibrex is a "thermo-plastic biofiber composite material" made from approximately 40% wood fiber and 60% thermo-plastic polymer by volume. Since Fibrex is a blend of wood fiber and plastic, the thermal expansion performance sits between vinyl and wood. Vinyl has the highest thermal expansion of most window materials (3.42 In/In per degree Fx10-5) and wood has among the lowet. As with Andersen's 400-series vinyl-clad products, Renewal by Andersen come standard with the new Low-E4® glass and TruScene® screens.
High-performance Low-E4™ is Andersen's trademark for a new development in self-cleaning glass. A microscopic layer of titanium dioxide (TiO2) is infused into the glass surface during the manufacturing process. The result is a modified glass surface which, when exposed to the sun's UV after wetting, dries rapidly and resists water spotting by up to 99-percent. The ultra smooth surface also resists dirt and scum build-up. Andersen is not the only company to market a self-cleaning glass. PPG Industries also sells a titanium-dioxiding coated glass to a number of windowmakers under the trademark SunClean™ .
Alternatively, MARVIN makes top-of-the-line wood, clad, and fiberglass (Ultrex®) windows in every custom size and shape you could imagine. As with all products, each has their advantages and disadvantages.
In the case of remodeling, your choices may be more limited if you're trying to match an existing style, decor, or look. However, even if you'll be remodeling with sleek aluminum-frame windows as opposed to wood or vinyl, there's no excuse for not using the more energy-efficient models with a built-in thermal-break -- such as those manufactured by MILGARD. This Polyurethane thermal break helps to reduce thermal loss through the frame, resulting in improved insulating qualities and reduced condensation on the frame itself. On the other hand, if you're after a warmer classic look, there's no substitute for a real wood window, even if it's one of the aluminum or vinyl clad types, such as those offered from Marvin, PELLA, and Andersen, respectively.
Thermal Efficiency
Before deciding on the brand or type of window, there are some important points to consider about your selection. With energy prices continuously rising, use double-pane or "thermal" windows for all new construction or remodeling. In the coldest climates where temperatures dip well below freezing, triple-pane windows may be necessary to provide the required insulation value. Using double-pane windows isn't just a good idea for energy reasons, but they also reduce or eliminate problematic condensation and draftiness associated with single-pane glass.
Proven developments such as Low-E glass with Argon gas have quadrupled the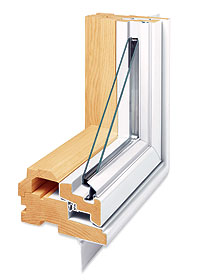 © Photo Courtesy Andersen® Windows

"R" value compared to standard single-pane glass. In mild climates, the cost differential may not offset the savings in energy use for several years, in which case double-pane glass may be overkill. However if you plan to keep your home for a while, it's likely that you'll get your money back when it comes time to sell the house down the road, particularly as energy efficiency becomes a growing concern among prospective homebuyers. Furthermore, insulating glass has better soundproofing qualities compared to single-pane windows. If you live in an area subject to street, highway, or airplane noise, insulating glass offers a dramatic reduction in sound transmission.

For new construction, you have an unlimited choice of sizes, shapes, and frame styles. You can select, all-aluminum, all-wood, aluminum-clad, vinyl-clad, or all-vinyl windows. More recently, Marvin has introduced a wood window line using an exterior extrusion built form pultruded fiberglass -- the same material used in newer ladders. This material is extremely durable, stable, and has a coefficient of expansion nearly identical to glass itself. This results in less differential movement between the sash and the glass, helping to minimize stress on the window seal. In addition, unlike vinyl exteriors, the pultruded fiberglass exterior is paintable if desired. The pultruded exterior can be joined to an all-wood interior jamb and sill, giving you the best of both worlds: the warmth of wood on the inside coupled with a paintable exterior that's nearly impervious to the elements.

In general, use common sense and make your windows match. I hate to see jobs where some rooms have mixed themes, such as elegant new woods windows in the kitchen adjacent to an aging aluminum-framed patio sliding door. Be consistent unless obvious architectural or structural considerations dictate otherwise.

When remodeling, you may be forced into a certain brand or size to fit an existing opening. In some cases, you can order custom sizes, although this may cost a big premium depending upon the manufacturer, so be sure to compare prices. You may be able to find a window with slightly smaller dimensions that fits your existing rough opening. Be careful, however, to compare glass area, not just frame area. If you're replacing a 3' x 6' aluminum frame picture window with a wood window of comparable rough opening, realize that the glass area will effectively shrink by five or six inches vertically and horizontally to account for the thickness of the wooden frame. Instead of having nearly 18 square feet of glass area, you may net only 13 or 14 square feet with a wood window. That's nearly a 25% reduction in light, which may make your room less bright and cheery -- perhaps even putting it below the minimum 10% requirement of the Uniform Building Code.

Depending on your situation, you may have to enlarge your rough opening to accommodate a replacement window of your choice. In this case, more significant structural considerations come into play. Changing the vertical dimension isn't too much of a chore, but changing the size of your header to accommodate a wider window quickly gets messy and expensive, forcing you to tear into your wallboard and exterior finish all the way from the top of the ceiling to the bottom of the floor. Sometimes electrical and plumbing may have to be rerouted to accommodate the new opening. While any competent contractor can provide these services, be forewarned that the costs will escalate significantly as you begin changing rough opening sizes, particularly in the horizontal direction. In some cases, using a custom sized window may be the more economical approach, particularly if a reduction in light is not an unacceptable tradeoff of your decision.

Egress Requirements

Most new building codes now mandate that you provide at least one egress window for each habitable space in your home. An egress window simplifies evacuation in the event of an emergency, and therefore specific minimum window openings and clearances have been established to ensure conformance. Be sure to review your egress requirements during the design phase and again prior to ordering your windows, as even remodels may be subject to the new code, forcing you to resize openings that were too small prior the adoption of nationwide egress codes. Since egress codes may vary slightly from location to location, check with your building department for the latest specification.

Also be aware that certain types of windows appear to have the right opening size, but this may be different from the clear opening. A typical casement window, for example, typically slides its pivot point toward the center of the opening as the crank is turned. This obstructs the clear opening, making it impossible to pass through in the event of an emergency. However, most casement windows are also available with special egress hinges that allow the window to pivot at the corner, providing an adequate clear opening. The egress requirement also dictates that the bottom of the window must be no higher than 44" from the finish floor surface to allow an average person to climb through the window in the event of a fire or other emergency.

True Divided Lites vs. Removable Muntin Bars

If you enjoy the traditional look of multiple-lite windows, you'll have two or three options to face during your selection process. Many manufacturers offer true divided lite options, in which each panel of glass is a separate piece held in place by solid muntin bars made from wood, vinyl, or extruded aluminum. When using double-pane glass, the cost for this option can rise considerably, since each panel must be individually cut and hermetically sealed to avoid condensation between panes of glass. While the true divided lite option has the most authentic appearance, they can be less than practical when it comes to painting, window cleaning, and overall maintenance. On one small remodeling job, the total cost of the windows was about $6,500 while bids to paint them came in at nearly as much. Painting true divided lites requires tremendous attention to detail and patience. If you're not experienced at this type of work, hire a professional. Your finished product will look much better.

The Pella Architect series true divided lights simulate the look of TDL's, while maintaining the structural integrity of a full panel of glass. Other manufacturers, such as Marvin, offer a false divided lite, made up of interior and exterior muntin bars with "false" sealing strips between the panels of glass. This gives the appearance of a true divided lite at a fraction of the cost.

The most practical and cost-effective option is to use removable or internal muntin bars. To maximize the authentic look, some manufacturers offer both interior and exterior muntin bars, however I've noticed that some of these don't line up very well, making the overall effect look sloppy and fake. You might consider just using removable interior muntins. These are easily painted separate from the windows and are easily removed when washing windows. Furthermore, if you decide after a while that you don't like the idea of a grid breaking up your view, you can just remove them and put them in storage. Admittedly, some removable muntins look cheap and fake. I particularly dislike Andersen's attempt to produce the muntin bar look. The thin, plastic bars never really cut it, although the have beefed up their design somewhat on their Frenchwood patio doors. Some local mills can fabricate improved wood muntins to fit most manufacturers windows, albeit at a higher price than the standard product.

With double-pane glass, however, the interior muntins can get lost when viewed from the exterior. Depending on their color and width, the overall appearance may still not look real. Pella has created an interesting alternative: their muntins can be mounted between the panes of glass. Because the interior glazing panel is removable, the muntins can be removed as needed, in addition to being painted any color. Some aluminum frame windows also offer muntins between panes of glass, but these are permanently sealed and look more like white or bronze tape placed in a grid configuration between the glass. They look like a cheap imitation of the real thing. I've noticed that this type of window has become popular in many new spec homes here in the Bay Area. I suspect that this type of window will have a "dated" look in the future and will go the way of the silver anodized aluminum frame window. If you're building for yourself, by all means budget in enough for decent windows and don't put in something that looks cheap and downright ugly. Pella offers a standard and a more substantial muntin called the Colonial muntin. Having seen these on a variety of installations, it's difficult to tell from a distance that they are not authentic divided lites. The relief detail and substantial dimensions give them a look that is both charming and practical.

There are several types of windows to suit virtually any design requirement and budget. Most common windows styles are casement, awning, hopper, double hung, single hung, slider, picture, and specialty. Each type of window has distinct advantages and disadvantages as outlined in the following table. Click the hyperlink on each style to bring up a sample photograph from the Andersen Window archives. To see sample cross section views, click on the "Vert x-sect" and Horz x-sect" links.
Window Manufacturer Comparison

Styles Legend: A=awning, C=casement, DH=double-hung, FDH=French door-hinged, FDGL=French door-gliding, GL=horizonal gliding/sliding, H=hopper, P=picture, SH=single-hung, SKY/RW=skylight/roofwindow, SP=specialty (roundtop, curved)
Andersen

Perma - Shield
A, C, DH, GL, FDH, FDG, P, SKY, SP, Bay, Bow
White
Sandtone
Terratone
Clear Pine Veneer (interior)
Vinyl Clad ext., Wood Interior
Low-E w/ Argon
20 yrs glass
10 yrs
Flexi-Frame
Custom fixed windows sizes in 1/16" increments
Renewal by Andersen
(new in 2000)
Custom-size replacement windows

A, C, DH, GL, P, Bay, Bow, FDH, FDG
Windows: Fibrex Frames
Screens: Aluminum frames w/ fiber cloth screen
Sun
Gray tint
Tempered
Obscure
20 yrs glass
10 yrs frame/parts
2 yrs installation
Marvin
Clad
A, C, DH, FDG, FDH, H, P, SP, Bay, Bow
White
Pebble-Gray
Bahama
Bronze
Green
Wood, Wood - Al Clad
Choices
10 yrs
Integrity
A, C, DH, GL, FD
White
Pebble-Gray
Wood / Fiberglass Clad (Ultrex)
Low-E
10 yrs.
Milgard
Aluminum
A, C, GL, FDH, FDG, P, SH, SP, Bay, Bow, GLDoor
White (Painted)
Bronze (Anodized)
Aluminum w/ thermal break
Low-E clear Bronze
Graylite
Solar Gray
Evergreen
Solex
Azurlite

Obscure (multiple styles)
Lifetime*

(*original owner)
Classic, StyleLine
A, C, GL, FDH, FDG, P, SH, SP, Bay, Bow, GLDoor
White
Almond
Vinyl
WoodClad
A, C, GL, FDH, FDG, P, SH, SP, Bay, Bow, FDH
White
Wood interior / Fiberglass exterior
Fiberglass
(Pultruded)
A, C, GL, FDH, FDG, P, SH, SP, Bay, Bow
White
Fiberglass interior and exterior
Pella
Architect
A, C, DH, FDH, FDG, P, SP, Bay, Bow, CornerView
White
Tan
Brown
Custom colors
All wood
Wood with Al Clad
5/8" Low-E w/Argon
Clear
Gray
Bronze
Green
Obscure
Custom
20/10/2
Designer
Wood with Al Clad
Proline
A, C, DH, FDH, FDG, P, SP, Bay, Bow
White
Tan
Brown
5/8" Low-E w/Argon