Build us a bathroom fit for a king and queen,
Lifetime brass faucets, accents of rich royal green

Tumbled Tuscan marble and a whirlpool for two,
An elongated toilet and French bidet too

A two-headed shower and seat would be nice,
Complete with a niche for Champagne chilled on ice
When asking a salesman of reputable plumbing products what the real differences were between one toilet and another, he replied facetiously, "It really depends whether you like to flush a thousand-dollar toilet or a hundred-dollar toilet." While there's more to the story than that, his blunt remark had a trace of veracity.
Other than your kitchen, no other area of your remodeling or new construction project will cost you more per square foot than your bathroom. The cost range for these modern-day sanctuaries can be staggering. A neighbor recently plunked down $25,000 for fixtures and tile work alone. After figuring in the additional costs of framing, sheetrock, electrical, heating, and finish work, our neighbor had spend over $40,000 for a 120 square foot master bathroom boasting a cast iron whirlpool tub, walk-in shower, double vanity, toilet and bidet. As you can see the sky's the limit with bathrooms, but your budget usually forces you back down to earth to keep costs from spiraling out of control.
Before you spend too much time day-dreaming about your bathroom, I recommend getting out to several plumbing supply stores to calibrate yourself on current costs. You'll find this to be a sobering experience. Most retailers will gladly provide you with brochures. Ask to see their master catalogs and the manufacturer's retail price lists as well. This will give you a better idea of what you're up against in terms of prices.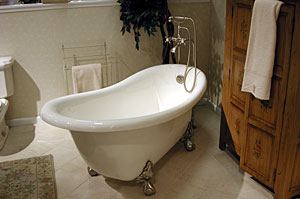 For example, I was astonished to see that Kohler's old-fashioned style bathtub (Birthday Bath) retailed for nearly $4,500 after accounting for the required and recommended trim, faucets, and mounting hardware. By comparison, a standard five-foot cast iron tub was only $500, a far cry from $4,500. Similarly, a quality two-piece toilet in white lists for $200 - $400, while a sleek one-piece elongated color design from Kohler or American Standard retails for $700 to $1,200 or more. A spacious vitreous china pedestal sink in a subtle pastel color can cost from $500 to $1,000, while a 24K gold-plated faucet can cost from $500 to $2,000. Imported European brands such as KWC and Grohe can be even more pricey because of import fees, shipping, and currency fluctuations, but their sleek styling and heavy-duty construction make them worthwhile choices. Don't forget to include tax, delivery charges, and any discount your supplier might be willing to provide.
Depending on the dollar volume of your purchase, you can expect to receive between 10-30% discounts on most fixtures. Some outlets prefer to deal directly with your contractor who may pocket the savings himself. If you feel confident enough to provide your own fixtures and can find a retailer willing to give you a 25%-30% discount, you could save several thousand dollars on a big job.
Choose Your Color Scheme
One of the first things you'll have to do is decide what color scheme you plan to use for your bathroom. This can be difficult because your vision of the final product may not be crystallized in your mind. Color is important, however, since it affects price, availability, and may limit your selection of other products such as tile, marble, paints, and decorative trim. If your color scheme is unclear or dependent on too many variables, I recommend going with white fixtures. White is most readily available, most easily mixed and matched, most economical, and most likely to stay in style for years to come. White is neutral and goes with everything. Furthermore, accent colors on tiles, paints, towels, and window treatments can give your bathroom the added appeal or dash of color that you seek.
On the other hand, you may have some specific ideas on color schemes that appeal to you. Perhaps you're looking to make a bold statement and want to select black fixtures. Or, you want a subtle hint of rose to soften an otherwise sterile white. Most leading manufacturers today offer a wide range of color selections. Some have even teamed with accessory manufacturers to provide complete color coordination, including tile, wallpaper, and towels. Ask retailers for color samples of fixtures you're considering. These come in handy when shopping for other elements of your bathroom.
Be aware, however, that small color samples can be misleading. A whole tub in dusty rose will likely appear darker than the color sample. Remember that it only takes a hint of color to fool your eye. Choice of color will always remain a personal issue. Keep in mind, however, that colors come and go. You might consider sticking to subtle neutral colors if there's a high likelihood that you'll have to resell the house in the foreseeable future. Bold colors such as Emerald Green or Navy Blue may look classy now, but in ten years they might look overstated and dated. Remember what happen to Avocado green? Historically, white, ivory, almond, and subtle grays and rose colors have always been popular. Unless your urge to splurge gets the better part of you, stay away from bold reds, pinks, yellows and blues or browns, except for rare circumstances where your surrounding decor is particularly well suited.
Designer Fixtures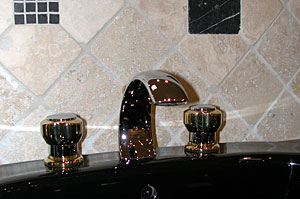 Some manufacturers now offer special-edition fixtures, such as American Standard's Whisper series. While some of these patterns can be elegant and subtle, others can be best characterized as fun, trendy, dazzling, and bright. A zebra-skin look on your toilet might look funky today, but it'll probably belong in the wild ten years from now. Due to their limited appeal, the designer series also command a huge price premium -- sometimes as much as 100% more than the same fixture in white. In no way is this meant to criticize manufacturers for venturing creatively into new areas. Ultimately, it's your bathroom and your choice. Do what makes sense for you, but don't ignore the potential ramifications that might cause you to replace your fixtures sooner than you wished.
Toilets and Bidets
The toilet or "WC" is, of course, one of most essential elements of any bathroom. While the range of choices may seem too large to digest, residential toilets basically fall into two common types: one piece and two piece. When it comes to toilets, here are some basic facts to consider.
A two-piece toilet consists of a tank and a bowl and is by far the most common style on the market. Since a two-piece toilet is relatively easy to manufacture, it costs less. Its economy and functional design have made the "two-piece" America's predominant toilet. Since two-piece designs rely on gravity flow to flush away organic contents, they can sometime be a little noisy, although this is a matter of judgment, particularly if you've grown accustomed to the flushing sound of a two-piece toilet as most people have. In general, one-piece designs are quieter because they use line pressure to flush away the contents rather than pure gravity flow in the tank reservoir. Manufacturers boast that one-piece designs are more hygienic, since dirt can't accumulate in the seam between the tank and the bowl. If you clean regularly, this isn't a big advantage in my opinion.
However, one-piece designs may require anywhere from 30 to 60 PSI to operate satisfactorily, whereas two-piece designs work independently of the available pressures. Low pressure can be a problem if the plumbing supply is old, restricted, or too many fixtures are competing for water at the same time, such as a flushing a toilet while running a shower. Typical one-piece designs may require 1/2" supply lines compared to 3/8" supplies for standard two-piece designs. If you go with a one piece design, verify the proper supply size requirement and buy a recommended tube that connects the valve stop to the toilet. Many plumbers overlook this requirement leading to a toilet that operates unreliably.
Regardless of style, appearance can be boxy or elegant. Kohler's Wellington two-piece toilet is very fashionable and sells for about half the price of comparable one-piece designs. Eljer also makes a nice looking two piece comparable in price to Kohler. As a general rule, Kohler offers the widest range of colors, followed by American Standard. The better brands are comparably priced with 5-10% of each other. When comparing across brands, I like to compare the published list prices, then figure in the discount offered for each brand. You can usually get 20% to 30% discounts with little effort. Some high volume distributors such as Pacific Sales in Southern California give even larger discounts. Shopping around is always the best. You can do a lot of checking by phone and the Internet, especially if you know what you want and deal with a person in a position to negotiate prices. Also, don't overlook state and local sales taxes, along with any shipping surcharges that some dealers apply.
If you haven't bought a new toilet in a while, it's important to realize that many new designs have been engineered to operate with less water. In an age when water is becoming a precious commodity, most newer toilets operate with 3-1/2 gallons compared to 5 to 8 gallons for older designs. In the past few years, even 1-1/2 gallon versions have emerged on the market. Most retailers agree, however, that the jury is still out on the 1-1/2 gallon versions. While they must meet certain standards, few of the 1-1/2 gallon toilets appear to really work as well as advertised. If you tend to be generous with your use of toilet paper, a "toilet-lite" may become a bigger aggravation than it's worth. Flushing twice doesn't save much water, is a nuisance, and may be the only way to avoid sewage from clogging up your pipes. Before installing an ultra low water usage toilet, I recommend that you discuss this issue carefully with your contractor or plumbing supplier before you buy. They can tell you what kind of maintenance problems they've seen on recent installations.
The world's largest toilet and bidet manufacturer is Toto of Japan. While this brand is less familiar in North America, Toto has turned the art of toilet making into a science. Their toilets feature an extra large passage chamber designed to reduce clogging, which can be particularly problematic with the 1.6 gallon flush models just mentioned. Although Toto does not make matching bathtubs, they do manufacture a high quality line of pedestal sinks, toilets and bidets in a handful of light neutral whites and beiges.
If you purchase your plumbing fixtures through your contractor or plumber, you can expect them to keep some of the savings for their time and effort. Never pay anything over list price, even if an item is provided to you through a contractor. For budgeting purposes, find out the list prices of the items you want and use that as your budget. Figure that any discount you might get is just icing on the cake and will cover other things that went over budget. Rarely do you come in under budget. There's a natural tendency to want to upgrade as you get into your project, even though you know you can't afford it.
If you live in cooler climates, you may notice periodic condensation on your tank. The phenomenon is the same as when water condenses around the bottom of a glass filled with a cold drink. The temperature differential between the cold tank water and the warm indoor air causes water vapor to condense on the tank, yielding a sweaty mildew that's both visually unappealing and musty smelling. Sometimes the condensation is near the bottom of the tank and may not be noticeable at first. If this is a problem, ask your dealer for a tank insulator -- a plastic pouch that lines your tank, helping to avoid large temperature differentials that cause condensation.
Toilet Seats
If you're like me, you might be disappointed with the quality of the standard toilet seats supplied with even some of the most expensive toilets. Many of them simply feel flimsy and unsubstantial. Several manufacturers such as Presalit make after-market toilet seats in matching colors that are made of heavy-duty contoured laminates that not only look elegant, but last forever.