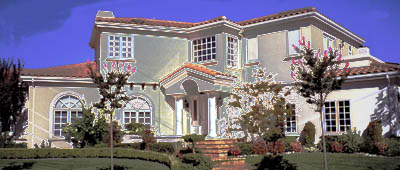 Architectural rendering of the author's home - three years in the making from design to completion.
I dedicate this book to my loving wife and children. Writing Building a Dream took thousands of precious hours over many years. Were it not for my kids' immeasurable patience and my wife's extensive proofreading, this book would not be what it is today.
Special thanks also go to my parents who taught me to set high goals and achieve them. Without their endless encouragement, I would not have been able to build my lifelong dream. From the moment my parents gave me my first drafting set at age five, I always knew that designing and building a new home would become a self-fulfilling prophecy.
I also thank my sister, whose rare talent as a television screenwriter and director continues to inspire me to put pen to paper. And I thank the many friends, colleagues, contractors, and trades professionals who have given me constructive feedback along the way and whose personal experiences and expert insight have provided many of the examples in this book.
Finally, I thank you—the thousands of loyal readers, customers, and supporters who go beyond the call of duty to provide continuous feedback, suggestions, and ideas that form the cornerstone of every chapter of Building a Dream.
Greg Lowitz