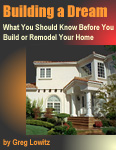 Building a Dream© is your online guide to quality home building and remodeling that prepares you for your next project—large or small. Though many books discuss general building techniques, few point out the many subtle tradeoffs you'll face during construction. These tradeoffs arise because there is more than one way to build and budgets are rarely unlimited. During the course of construction, you'll make hundreds of decisions that affect your project cost. Using real-world experience and examples, you'll discover hundreds of precious tips and recommendations rarely found in any one source—tips that will put your project on a solid footing to help you build it right from the start.
As an owner builder with a passion for excellence, I wrote Building a Dream with straight talk on everything from foundation design to choosing paint. Each chapter reflects a careful blend of time-proven and advanced practices in residential construction. Each page unfolds critical but often overlooked topics including soil conditions, drainage, foundation ventilation, moisture-proofing, seismic reinforcement, window selection, energy efficiency, future maintenance considerations, and new product trends.
Building a Dream takes the mystery out of remodeling and home building and puts powerful knowledge at your fingertips—knowledge that will help you avoid costly mistakes. Your enhanced knowledge will help you deal from a position of strength when it comes time to anticipate costs, select your contractor, and manage your project.
This ground-breaking online version of Building a Dream brings the global reaches of the Internet and World Wide Web right to your fingertips—today. Embedded LINKS throughout each chapter connect you to useful design resources, professional organizations, reputable manufacturers, and related sites, making Building a Dream the first interactive builders websource of its kind for residential construction. Now—more than ever—designers, builders, and homeowners can better envision and refine a project long before a hammer pounds a nail.
If you're reading Building a Dream as a designer or contractor who aspires to excellence, you'll discover a refreshing perspective that invites your attention. Too often, quality workmanship and high customer satisfaction are the exception, not the rule. Follow the basic principles in this book and you'll develop your reputation for world-class professional services. With extraordinary attention to detail, follow-through, and empathy for your clients, you'll quickly win business from those who didn't take time to read this book!
I hope you enjoy reading Building a Dream as much as I enjoyed researching and writing it. In this online edition, you're sure to find unfilled holes or inadvertent errors. My years of engineering and business management experience have taught me that the pursuit of perfection is an on-going process—reinforcing the notion that any product (or book in this case) undergoes continuous improvement from the day it's introduced. Measuring and constructive feedback are the keys to an even better product tomorrow. To this end, I invite you to help improve future editions of Building a Dream for all to share. Please submit your tips, stories, and constructive feedback to us ONLINE, or write to the address below. I read every submission and welcome your suggestions and will make every effort to include them in future editions and articles. And, of course, if you choose to read additional chapters listed on the upper right navigation menu, please help to support our site by making your secure online payment today.
Happy Building!
Greg Lowitz
Owner Builder & Author
Building a Dream

Builders Websource
570 El Camino Real Ste 150 PMB 415
Redwood City, CA 94063-1262