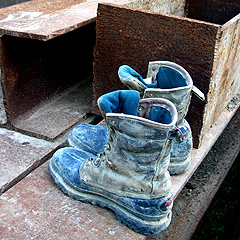 We have home plans approved
And a loan in the works

Good contractors we seek
Without all their quirks

We're told to beware
Of subcontractors that dare

To walk off the job
We can't find anywhere

We hope to survive
This most taxing ordeal

That we'll face in our lives
Only time will reveal
Now that you have a set of plans ready for bids, you're about to embark a roller coaster unlike any you've experienced before. Few adventures will tax your sanity (or your bank account) more than stripping your walls naked and redressing them with the latest fashions. Not until the bills are paid and the contractors have come and gone will you fully appreciate the great exhilaration and satisfaction you feel. Cupping an Amaretto by the warmth of a crackling oak fire, you gaze into dancing flames, close your eyes, and recount the trials and tribulations you endured...
You relive each crisis. Like the time your hand-cut limestone ended up on the bathroom floor - the wrong bathroom. Or when your painter's roller salted the Steinway with speckles of Benjamin Moore Antique White. Or when you took your first shower upstairs…only to find water drizzling through the recessed Halogens in the dining room below.
In disbelief, you focus on the victories. Like the day you watched the foundation pour; witnessed the walls go up; or when you first plunged by candlelight into your roaring whirlpool bath for two. You shake your head and grin all right - wondering how you survived such an ordeal. Impressed by your tenacity, you sink back into your new Henredon, savor a second heart-warming sip of Amaretto, and enjoy la dolce vita in the grandeur of your stunning new master suite.
Sound familiar? Every year, Americans spend billions remodeling their homes. New home construction amounts to billions more. These numbers are dizzying. Despite the insatiable tendency to leverage oneself into 30 years of debt, few prospective homebuyers and remodelers educate themselves before they venture. You've heard the horror stories of unscrupulous contractors, schedule delays, cost overruns, and plain incompetence. Or the contractor who skipped town after cashing the deposit. Flush with warning, you entrust your contractors to look after your best interests. You assume they'll make decisions in your favor. After all, you're the one paying the bill, right?
Choosing a Contractor
As in all professions, there are true professionals who anticipate customer needs and deliver consistently high satisfaction. I applaud these contractors. Over time, their business ethics, high integrity, and passion for customer satisfaction rub off onto aspiring apprentices. But, there are others who look for shortcuts to prosperity or unwittingly underbid a project only to find out they'll come up short unless they skimp a little here and there. Consumers are the ultimate losers since it's not easy to ask the right questions. Without a solid understanding of the trades and best practices, how are you to know when a job is done right? Must you wait for the roof to leak only to learn that a critical piece of flashing was never installed? Should the shower scorch you when the toilet flushes because the plumber undersized the water supply? Of course not! You feel cheated after discovering such unadvertised features of your home. Yet, examples like these are pervasive.
Before you build, go in with your eyes wide open. Too often consumers blindly contribute to mediocrity. Don't accept sub-standard products or poor workmanship because you don't know any better or are afraid to speak up. Never sign contracts for hundreds of thousands of dollars without first doing a background check on the company that won your business. Case and point, few homeowners ever verify the license numbers of prospective contractors. Yet, with a list of referrals and a quick call to the Contractor's State License Board, a risky choice could be averted altogether.
In California, for example, any contractor who performs more than $300 worth of work on your home must carry a valid contractor's license covering the type of work performed. Most states have similar laws. Flagrant violation of this law leads to periodic sting operations where investigators pose as homeowners fixing up a run-down residence. In one case, 21 contractors and businesses were caught red-faced. Those found guilty were subject to a year in jail and fines up to several thousand dollars. While a valid license doesn't guarantee a contractor's personal integrity or quality of workmanship, it provides you additional protection and leverage should you encounter a dispute or file a lawsuit.
Unlawful use of another contractor's license number is another common scam. One independent framing contractor gave us a bid with his license number written clearly on the proposal. After checking with the California Contractors State License Board, we found that the license number belonged to a contractor in a different county. Probing further, the "carpenter-turned-contractor" acknowledged he was using the license number of his former employer! Repeat occurrences of this experience simply reinforce the notion that scams abound.
Even more amazing is how legitimate contractors fail to follow up on the satisfaction of previous clients. From a list of referrals a prospective general contractor gave to us, two past clients had few good words to say about the work he had done. What's more, both said that certain details of the job remained unfinished long after the contractor had come and gone. An unimpressive track record, at best. Digging into the list even further, the mixed reviews left enough doubt in our minds about the contractor's ability to finish the job that the hunt for new prospects continued.
Like choosing a family doctor, there is no magic answer to selecting the right contractor or sub contractor. A recommendation from someone you trust is always a good starting point. We discovered some of the better contractors as we wandered through other homes in various phases of construction. Of course, be sensitive to trespassing and ask permission to look around. Due to liability concerns, some contractors won't let you walk a jobsite unescorted -- since an accidental slip is a lawsuit waiting to happen. In my case, I once had a close call when I tripped over a scrap of wood and felt a number-four rebar graze my inner thigh. Dashing my hopes for a future family, I luckily emerged with a superficial scrape. The tear through my jeans was a fateful reminder of just how careful you should be.
Still, we met other contractors and subs at local home shows. Some cities even offer pre-screened contractor referral services. Others still we found the old fashioned way -- through the Yellow Pages. Now, with on-line access, you can even use the Internet to search for contractors near you. Sources such as ImproveNet.com or build.com are good places to start. ImproveNet, for example, will match consumers with contractors, designers, and architects.

Increasingly, even companies such as The Home Depot (homedepot.com) and their upscale Expo stores are offering contracting services, particularly for kitchen and bath remodeling. In the end, the most powerful ingredient is your own judgment of character -- together with your growing knowledge of building practices. All told, we scored about a 75% satisfaction rate with our subs -- not bad for a major project. As for the other 25% or so, let's just say their business cards have been recycled into post-consumer pulp.
Of course, our 75% satisfaction rate didn't mean there were no disputes or issues along the way. You can be sure we had some lively discussions with many of the better subs we hired. But after the dust settled, weighing the good with the bad, we would rehire about three out of four of the subs. We generally had the best luck with subs who did the work themselves, often in conjunction with a one or two-man crew. We tended to have more difficulty with some of the small companies whose workers were not personally on the hook to fulfill the scope of the contract.
For example, the companies that provided our rain gutters, closet doors, and original rough plumbing were universally losers. Perhaps there's a pride of workmanship that's missing when you're not directly rewarding the employees with checkpoint payments or referrals. Successful contractors and subs live or die by referrals. So maybe those who do the work themselves take a little more care when they know the homeowner is also one who takes pride in the art behind the walls.
Put It In Writing
Except for basic building codes, few rules govern standards of construction quality and workmanship. Practices vary so much from contractor to contractor and region to region that Building a Dream outlines "best practices" that you should spell out on your plans and write into your contracts. About the only consistency in the construction trade is that if something's not explicitly spelled out in writing during the bidding process, it's likely you won't get what you think you're supposed to get when the project's complete.
Anything that requires specific materials, careful workmanship, or attention to detail will never materialize unless you're persistent, well informed, and have it in writing. Even details that are clearly spelled out on the plans may get lost in the shuffle of a major project. At least when disputes arise, your written contract and plans can help to get things corrected at the contractor's expense.
For example, structural inspections of certain homes destroyed by hurricane Andrew revealed many homes had sheathing made of 3/8" chipboard. Instead of using more rigid plywood as the code required and the plans indicated, the chipboard crumbled when exposed to rainwater, resulting in premature structural failure. In other cases, poor workmanship and carelessness resulted in unsecured roof trusses. Until the roof framing blew off like toothpicks, homebuyers were none the wiser.
With rare exception, there is no substitute for tight coordination with your contractor, including frequent reviews and personal inspection of details. It's the rare contractor, indeed, who will handle your project worry-free. After reading this book you'll be able to anticipate potential problems before they become problems. Building a Dream provides you with a solid background -- a sort of consumer's tool set -- that you'll need to build your dream.
Reinforce the "Build it Right" Expectation
When it comes to home construction, the "do it once and do it right" philosophy couldn't be more to the point. Saving a few thousand dollars now could cost you tens of thousands of dollars later; not to mention the emotional aggravation and inconvenience that accompanies problems in your home. Some builders cut corners expecting that you'll never know the difference until long after they're gone. Over the years I've toured scores of new homes across the country only to be appalled at trends of sloppy workmanship and "minimum" standards.
One half-million-dollar home in a new luxury development in greater Atlanta had its shower tile glued directly onto moisture-resistant wallboard (greenboard). The tile job itself was masterful, but what lurked behind would surely cause the unsuspecting new owners problems five or ten years down the road. Any professional tile installer will reiterate what the Tile Council of America professes to the trade - that a proper tile installation should be floated with a monolithic base of reinforced mortar and a suitable moisture barrier placed between the greenboard tile base. At the very least, the addition of one layer of cement board such as Wonderboard, Durock, or Hardibacker will provide superior longevity and protection against dry rot and moisture damage compared to tiling on greenboard alone.
Of course, a proper job often costs a little more up front. Better materials and careful workmanship carry their apparent premiums. In a competitive market where demand for new homes fluctuates with the local economy, builders are reluctant to price themselves out of the market. By saving 5% here and 10% there, they can knock off thousands of dollars from the selling price of a new home. To the first-time homebuyer, this appears as a big price advantage, particularly if the "extras" are not readily observable (such as a good foundation or proper framing details). Yet the owner is ultimately the loser. Poor quality or "minimum" installations invariably show up as expensive repairs down the road.
Clearly it's a "pay now or pay much more later" phenomenon. Given a choice, it's better to stretch a little now, but build it right the first time. You'll get the enjoyment and satisfaction of quality construction along with the peace of mind that unexpected and costly repairs will be kept to a bare minimum. In this regard, some contractors underestimate the competitive value of quality for the discriminating buyer. But so long as there is an abundant supply of uninformed buyers, many contractors will continue to do the minimum job possible, even though they wouldn't stand for it in their personal residences.
When the Bids Roll In
Once you've double-checked your plans for thoroughness and have clearly documented the scope of work, you're ready to submit your plans to bid. For almost any project, seek out at least three competitive bids. In some cases, you may want five or more, particularly if the dollar value of the project is high. Since each contractor may require multiple sets of blueprints, don't be surprised if you have to spend a small fortune to make enough copies to spread around. It seems you can never have too many copies of your plans, since just about anyone who touches your project will need a set to study. I found myself becoming pretty friendly with the local reprographics house downtown.

As your bids begin rolling in, don't be surprised if you see quite a spread -- especially if you're living in a booming part of the country where contractors are in tight supply and stock options flow from faucets like liquid gold. Over the past few years, I've witnessed an unsurpassed boom in new construction and remodeling in California -- particularly in land-locked Silicon Valley. With new millionaires emerging daily, I've even seen hard-working professional couples scrap entire projects after choking on prices. One recent project in Palo Alto came in at over $500,000 for a 1,000 square-foot second story addition and kitchen remodel. Excuse me, but is that half a million dollars? Another contractor wanted $250,000 for a new master bedroom suite. What market dynamics! One would surmise that it can't possibly last like this. But so long as there is an undersupply of qualified talent and an oversupply of hungry buyers flush with cash and vested stock, prices will continue to remain inflated until the economy takes a breather.

If you're lucky enough to live in part of the country where prices are more in line with typical household incomes, you may still find a wide fluctuation range in your bids. When comparing between different proposals, be sure you're comparing apples to apples. Do all bids include the same materials? Do they all assume the same budget for unspecified items, such as plumbing fixtures, appliances or other accessories? Are the windows the same in all cases? Is painting included? Do the costs include permits or temporary facilities that may be required? Is the time frame for completion comparable between bids? What is the warranty? Are any contingency funds built in to cover unexpected costs, such as termite or dry rot repair, foundation reinforcement, repair of damaged flatwork, sidewalks, or landscaping?
After you've digested each bid, you may require further clarification from the contractor. Many contractors like to present the bids in person, while others simply mail them to you. Contractors expect a certain amount of haggling and, given that they have already sunk considerable time into bidding your project, there's nothing worse than losing the deal over a few concessions. Unless the project was way overbid, don't expect huge concessions, though. In fact, it's important that the contractor makes a reasonable profit off your job. If you squeeze too tightly, you can be sure the contractor will cut some corners here and there to make up the difference. But you might be able to bring the price down a few percent...or tighten up on the language in the contract to your benefit.

Similarly, if you have a bid that seems too low or is significantly under prevailing market prices, be equally cautious. Did the contractor overlook something or make an error in the takeoffs? Does the contractor have a clean legal record, good references, and experience? Are the project payments heavily "front-end loaded" relative to the actual completion of work and procurement of materials? Does the down payment percentage violate state guidelines? Is the contractor insured, bonded, and can he or she provide certified documentation of workman's compensation for all employees? Is the contractor willing to provide lien releases for all suppliers and subcontractors? If your contractor hedges or can't answer any of these questions to your satisfaction, these are serious red flags that you must address before hiring anyone.

Common ways that contractors save costs are to pay their workers cash under the table. This avoids paying workman's compensation benefits as well as employment taxes. Some may even show proof of workman's comp insurance, but only for their lead employees. Often they don't bother with many lower-level laborers, even though it's the law. And while this may benefit you with seemingly lower costs, isn't it ironic that you would trust someone with hundreds of thousands of your hard-earned dollars who blatantly cheats his workers and the system to avoid paying taxes and insurance? Furthermore, your own insurance may not cover you from a liability standpoint if an accident occurs at the jobsite.

While life-threatening injuries are relatively rare on residential projects, broken bones, crushed feet, and nailed fingers are all too common. On our project alone, injuries included a nail-gun blast that drove a 10-d green vinyl sinker right through the carpenter's thumb, shattering the bone in three places. In another case, a 4x12 ridge beam weighing over 250 lbs. fell four feet onto a framer's foot, crushing his toe. In a more serious case in the upscale hillside community of Tiburon just north of San Francisco, a careless laborer fell off the scaffolding while plastering an exterior wall. Three stories below, the shattered man was eating a v-trowel for lunch. Though he miraculously survived the 35-foot fall, he will never talk or walk again.

Finally, ask your contractor to consider a 5-10% holdback. This means that you hold aside 5-10% of every payment or the final bill until the job has passed muster. That means that all punch list items have been fixed...and the contractor has completed the job to your reasonable satisfaction, including job-site cleanup. While many contractors will resist any holdback, it's in your own interest to insist firmly on it. All too often, there is little incentive left to complete the job 100%. Lack of completion is the single largest complaint I hear from consumers. It's human nature that once you've been paid, the incentive to do any more work is no longer there, other than personal pride and business ethics.
In the end, if there's only one concept you glean from this book, insist on quality design, materials, and workmanship. Do things in the right order to minimize rework. Never tolerate anything less because you deserve only the best. Educated consumers are the best assurance that the construction industry will continue to rise to higher standards at a price that's both competitive for the consumer yet profitable for the motivated men and women who make contracting their livelihood.