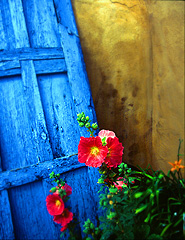 Stucco, a Portland-cement-based mixture, is a common exterior wall treatment commonly found throughout much of the western United States and parts of the South in Texas and Florida. In general, when applied properly, a stucco exterior requires little maintenance except for periodic painting if desired. When applied and maintained properly, stucco will last the lifetime of the structure as its inherent cement content is nearly impervious to deterioration, excluding potential damage from earthquakes or severe foundation settlement. Because of its workability and a wide range of finishing options, stucco shapes the personality of a structure, ranging from a high-tech look with symmetrical expansion joints to a soft plaster-like finish giving warmth of a country cottage or the patina of a classic Mediterranean villa.
Stucco, like any material, can be applied in numerous ways, hence depending on who you talk to, you'll get as many opinions as real facts. Traditionally, stucco is applied in a 3-coat fashion. The first coat, called a scratch coat, is the thickest -- usually about 1/2". It provides a solid wire-reinforced base on which to apply subsequent coats. While the scratch coat is still wet, a notched trowel is used to engrave a pattern of groves that look like giant scratches. This provides an added, rough surface area for bonding of the next coat.
The second coat, the Brown coat, is generally 1/4" thick. Its purpose is to provide added mass and thickness to the coating for increased strength and water protection. Finally, a 1/8" thick finish coat is applied to give the desired appearance such as smooth, floated, Mediterranean knock-down, or skip troweled.
In an age of soaring construction costs nearing $150-$200 per square foot in the San Francisco area, numerous techniques for cutting corners have emerged, many of which show up even in multi-million dollar residences I have examined in the most exclusive areas. One such technique is called a 2-coat stucco process. It saves an entire step in the process, costing less in labor in materials. In a 2-coat process, the first coat is called the brown coat and the final coat is the finish coat. At first glance, this technique may provide a finished appearance that's hard to distinguish from a three coat job, but the overall thickness, crack resistance, and longevity of the stucco will have been reduced. There's almost always a price to pay for cutting corners. If you're building a house for yourself and pride yourself in doing things right, any competent stucco contractor will tell you that a 3-coat job is the right way to do it. Anything less is cutting corners. Even then, the savings may not be that great, perhaps just a few thousand dollars on a typical 3,000 square foot home.
After interviewing several stucco men, we learned a lot about the tricks of the trade. Here's some of them, all of which have some effect on the cost of the overall job.
Sub-base Sheathing
While stucco can be applied directly over studs using wire lath, more commonly stucco is applied over plywood sheathing, particularly in earthquake country where most of the outside walls are generally fully covered with shearwall (plywood sheathing). In earthquake country where shearwalls are part of the design code, minimum shearwall thickness is typically 3/8". Because plywood is never quite the full stated thickness, however, go with 1/2" plywood minimum. When using 2x4 or 2x6 stud framing, 1/2" plywood - coupled with 1/2" sheetrock gives you a finished wall thickness width of roughly 4-1/2" or 6-1/2", respectively. This is ideal for standard wood window jambs commonly quoted as 4-9/16" for 2x4 studs and 6-9/16" for 2x6 studs. This leaves a little margin for variations in 2x4 dimensions and any thin mud coating you might apply to the sheetrock. For extra stability for the stucco base, consider using 3/4" plywood, particularly if it's over 2x6 framing on 24" centers. While the extra thickness is overkill from a shearwall perspective, the 3/4" thickness makes an exceptionally solid and stable base for stucco. Nails and staples penetrate well into the wood to provide extra gripping power. Realize, however, that by going with thicker shearwall, your window jambs will be non-standard. Depending on your window type, this may not be an issue. In fact, jamb extensions are easily applied at the manufacturer or by your contractor. Heavier plywood, however, will add to cost. This generally isn't necessary if your stucco installer is careful to anchor the lath securely to stud locations as opposed to the spans between the studs. Furthermore, insist for both shear protection and stucco stability that any horizontal edges of the plywood sheathing have blocking on the opposite side. Shearwall tests show a 2 to 1 improvement in shear holding strength when all edges are nailed off compared to unsupported edges. This also stabilizes the plywood against potential warping that could cause cracking in the stucco.
Paper and Lath
The uniform building code requires a minimum of 2 layers of Type "D" paper, designed for use as an underlayment for stucco. Some people have used 15 lb. felt over a single layer of type "d" paper. While this sounds good in theory, the asphalt saturation of the felt makes it difficult for the wall to breathe. Therefore, moisture emanating from inside the house will have a more difficult time escaping. In cooler climates or poorly ventilated homes, this could lead to mold and dryrot inside the wall cavity. Using an extra layer or two of type "d" paper is a good compromise. It provides additional protection against exterior moisture penetration, but still allows the wall to breathe through the pores in the paper. Ask your stucco installer to use copper staples which don't tend to rust like galvanized steel staples. They cost more, but what's a few extra bucks for a first class stucco job!
Good attention to detail is important when lathing a home. For example, the paper should always be applied horizontally starting from the bottom of the wall and working up your way up. Horizontal seams should overlap by at least 4", although 6" provides a little more margin of safety. Furthermore all windows and doors should be pre-flashed with a double layer of Kraft-faced flashing paper. The doors and windows should be well caulked with a continuous bead of 30-year silicone caulking applied according to manufacturer's recommendations. Finally, the tops of all windows and exterior door jambs should have a vinyl or primed galvanized or copper sheet metal Z-bar flashing to ensure that moisture does not tend to drip behind the window frame. These essential points assure that any water or moisture that hits the paper has no chance of dripping between the paper and the shearwall or through your windows and doors, causing premature dry rot, water staining on the interior sheetrock, or a damp haven for termites. Telltale signs of poor flashing and caulking often show up as water stains, excessive moisture, or even mold on the interior areas of sheetrock near the window jamb or frame.
For added moisture protection in areas that will be continuously exposed to the elements (such as stucco-finished exterior balcony wall, etc., or in contact with cement flatwork such as entryway porches, steps, patio slabs, etc.), a relatively new product called Bituthene can provide years of worry-free protection and waterproofing when applied in accordance to the manufacturer's instructions.
Once the paper is applied, stucco lath or wire netting is applied as a reinforcement for the scratch coat of stucco. A variety of types exist, but always insist on 17-gauge wire. Other wires exists that are thinner, and therefore have less reinforcement value. We used Jansen wire netting on our job.
To save labor, much stucco netting is called "self furring," meaning that slight kinks in the netting ensure that the wire mesh is not flush against the wall. The goal is ensure that the reinforcing material is well imbedded into the stucco, ensuring optimal strength. This netting can be stapled to the wall using a pneumatic staple gun. Unfortunately, even with self-furring netting, the tendency is for the reinforcement to stay squashed against the wall. To avoid this problem, always insist on the use of furring nails placed on studs at 6" o.c. to provide plenty of imbedment room for the scratch coat. This takes more labor but makes for a superior base coat that will be less susceptible to cracking. Using furring nails might add a few hundred dollars to a base bid. Many lathers use nails as standard procedure. Be sure to ask what your bid includes.
For a small additional cost, you can specify added reinforcement at the corners of all window and door openings. The right-angle formed at any corner tends to be a weak point in the stucco, in which hairline stress fractures commonly occur, shooting off diagonally from each corner. The reinforcement is mere a 12" x 12" piece of fine wire lath with a 6"x6" piece notched out for the window frame. When placed on the corner of each opening, localized reinforcement of the stucco is provided, minimizing the chance of stress fractures around the corner, although some are likely to appear as a matter of course. This trick is rarely included as part of a standard stucco bid as the building code does not require it. However, given that you want things done right, always specify this extra step to ensure a minimum of unsightly cracks. Our stucco man did this for an extra $200 for our 3,000 square foot home.
Decorative Trim and Detailing for Stucco
Perhaps one of the most exciting developments in exterior detailing is the recent introduction of modified expanded polystyrene (EPS) foam shapes. With total architectural flexibility, foam shapes of unlimited design complexity are cost-effectively manufactured by a select group of specialty firms in the West Coast. Using a computer-aided entry system, it's a simple matter to custom design crown molding, cornices, corbels, columns, rosettes, window sills and trim, and other decorative detailing once reserved for grand villas. During the manufacturing process, a computer-controlled laser cuts the prescribed contour into the foam, yielding a highly uniform product. Objects such as crown molding, for example, are typically manufactured in 8-foot lengths. To speed installation, some manufacturers also provide cutting and mitering services, such as pre-made inside and outside corners and returns. Because of their light weight, foam shapes are readily installed by one or two craftsmen who secure the shapes into place with screws, nails, or a special bonding agent.
Once the raw foam has been shaped and precut to required sizes, some manufacturers offer an additional service which includes the placement of a fiberglass mesh reinforcing tape such as that used in the application of sheetrock is placed over the entire surface area of the foam. A thin brown coat of cementitious material is spread evenly over the entire surface, providing a protective and durable bond coat ready for final texturing after installation. Seams and joints between adjacent foam pieces (such as in crown molding used in soffits) are spliced with additional fiberglass mesh tape prior to the application of the final finish coat. Depending on the architectural style of the project, the color and finish texture can match or contrast with the walls. One elegant scheme is to have a hand-troweled smooth wall texture with a float-finish on the molding and window sills, for example. This provides not only some aesthetic diversity, but helps to break the monotony of a monotonic finish.
Because of their lightweight nature, foam shapes are growing rapidly in popularity. Unlike wood, modified expanded polystyrene does not shrink or expand noticeably with changes in temperature or moisture levels. Because of their extreme stability and virtual imperviousness to deterioration, foam shapes are being used increasingly as a substitute for wood. The biggest drawback of EPS shapes is their resistance to impact damage. However, when used in decorative applications not subject to physical abuse, EPS shapes have a number of clear advantages that make them an excellent new architectural tool to enhance the beauty and customized look of your home. Unless otherwise specified, EPS shapes are generally made with a 1-lb per cubic foot density. With this type of material, a 10% deformation occurs at approximately 15 psi, while EPS made from 2-lb per cubic foot density material has nearly double the compressive strength. Stability is assured to temperatures as high as 167 degrees Fahrenheit under continuous exposure conditions. Therefore, even in the Southwest where temperatures can soar to 120 degrees and beyond, foam shapes will stand the test of time.
As with any building materials, prices for foam shapes can vary radically depending on the supplier, the size and complexity, the finish, and the number of lineal feet ordered. I suggest getting bids from several vendors before committing to one, as prices can vary more than 3 to 1 for the same order. Furthermore, depending on the proximity of the manufacturer to the job site, the cost of shipping alone can be staggering. The foam shapes are sent via UPS or other carrier in the same class as delicate china. That's because special care is required to handle the sometimes large shapes which could be easily damaged or crushed during shipment. Shipping charges of several hundred dollars are not uncommon for an order containing five or six hundred lineal feet of lightweight foam. For a basis of comparison, the price per foot of a custom ordered crown molding (approximately 4.5 by 8.5 inches) was about $1.12/foot in raw cut form, or nearly $4.00/foot with a brown coat applied. Additional charges for precut corners, returns, and special miters can add another five or ten percent to the total job price. We spent roughly $3,600 for slightly over 400 feet of crown molding, 150 feet of a bellyband detail, and precut window sills for 29 unique windows. The price of installation varies according to your contractor, however can range from $1.00/foot on up, depending on the size and ease/difficulty of installation. The company that fabricated our foam shapes (Concept Designs of San Jose, California) liked our crown molding detail so much they've decided to add it to their catalog of standard shapes. Standard shapes have the advantage that there is no design required and availability may be faster. Custom shapes, however, can be designed for little or no additional fee, provided you give a careful sketch and fully dimensioned diagram of your desired shape.
Foam shapes should be applied after the brown coat has been applied but before the final coat is applied. Attention to detail, such as corner alignment and straightness are critical to achieve a uniform, professional installation. Because of slight variations in the brown coat thickness, a red chalk line should be snapped horizontally along the wall to assure cosmetic alignment of the pieces. Where seams occur between adjacent foam strips, fiberglass mesh is applied to provide local reinforcement and good bonding. A special bonding paste is applied to the seam and should dry overnight before applying the finish coat texture.
The use of architectural foam shapes is by no means a requirement for a good looking stucco job. But if you really want to add that special touch of class to your home, try foam. You'll be glad you did it!
A more durable, but less flexible alternative to foam are rolled wire shapes, such as 1" x 4" window trim. The wire shapes are nailed in place during the lathing phase, and they become part of the stucco itself. Sometimes reinforcing corners are used to provide extra strength.