Buy and read Building a Dream online for just $9.95
All major credit cards accepted - fast, secure online payment
Unconditional 7-day money-back satisfaction guarantee
Available online exclusively at Builders Websource
We do not ship printed copies. Thank you for your support!
---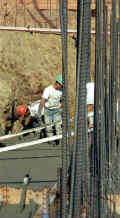 The Insulating Concrete Form, or ICF, is among the fastest growing segments of the residential and commercial market for foundations and wall systems. Although ICF's represent less than 1% of the residential market today, acceptance is accelerating. By 2005, ICF's will represent as much as 5% or more of the residential market, seriously challenging traditional stick-frame wall construction. Every year the number of homes built with ICF's doubles. Significant performance advantages coupled with rising lumber and energy prices makes ICF's an attractive alternative for new construction throughout North America.
Defining ICF's
Made of expanded polystyrene, or EPS, ICF's are an insulating forming system for poured-in-place concrete walls and foundations. Introduced in Europe, ICF's have been in use around the world for over 30 years. Over 50 manufacturers in the US and Canada make ICF's in a variety of shapes and sizes for use in foundations, basements, multiple-story dwellings, and commercial facilities. Rather than using traditional plywood or 2-by forms, lightweight ICF's stack in a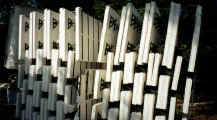 running bond pattern forming both an exterior and interior insulated wall. Installers lay rebar horizontally and vertically inside the ICF's to create a structurally sound unit designed for the expected vertical and lateral loading conditions. After proper installation and bracing, the ICF's are pumped full with a soupy concrete mixture held to a 5"-6" slump. Pre-manufactured 45- and 90-degree corners coupled with a precision alignment system helps to adjust the walls to ensure a perfectly square and plumb structure.
Once the walls have cured, they form an incredibly strong monolithic structure that is permanent and non-deteriorating. Since the protective insulation provides an ideal curing environment, tests conducted by the Portland Cement Association have shown that concrete is up to 50% stronger than concrete cured in traditional wood form systems.
Types of ICF's
Typical ICF's have inner concrete cores of 4-, 6-, and 8-inches wide. When combined with approximately 2 to 2-1/2 inches or more of rigid foam insulation per side, the resulting ICF wall thickness is in the 8- to 12-inch range. Finish materials such as interior gypsum wallboard or exterior stucco or siding add another 1-1/2 inches to the total wall thickness. Answering the demand for heavy retaining wall applications, certain manufacturers offer systems with inner cores of 10, 12, 14 and even 16 inches or more. Clearly these super-thick walls provide exceptional strength, energy efficiency and sound isolation. However, the added wall thickness also subtracts from the total available interior floor space which, in a small or narrow home, could be significant.
Although various types of ICF's have been around for years, recent advances and product developments are bringing an exciting new dimension to homebuilding, virtually eliminating some of the drawbacks of earlier systems. Evaluation of several leading products reveals fundamental variations of the ICF core structure. While each of these variations may influence the particular conditions under which each system is optimum, they essentially offer similar benefits and universal strength. ICF core structures classify into one of four types. The percentages are based on the number of manufacturers, not the volume of each sold or installed:
Flat System (54%)
Waffle System (10%)
Screen Grid System (29%)
Post and Beam System (8%)
Within each of the aforementioned types, there exist three typical subtypes:
Panels (15%)
Planks (23%)
Blocks (62%)
Panels are the largest, often measuring 4 feet by 8 feet or greater. Planks typically range from 1- to 2-feet high by 4- to 8-feet long. Finally, blocks are typically 12- to 16- inches high by 4-feet long, representing the majority of manufactured ICF's.
Regardless of the subtype (panel, plank, or block), all flat systems have an inner core of constant width. While this system uses more concrete than other ICF systems, it is most accommodating for rebar placement since each cavity is wide open enabling virtually unlimited choices in rebar placement. This is particularly important for walls carrying unusually heavy loads or in seismic zones three or four where it's not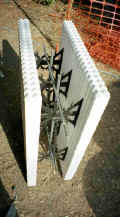 uncommon to see vertical rebar placement every 6" to 8", including rebar with 1" or greater diameter (#8 and above). A leading flat block vendor in North America, for example, is Arxx Building Products of Canada. The Arxx High-Performance Wall System (formerly BlueMaxx) is in growing use throughout North America on a wide range of residential, commercial and agricultural applications. Having seen this system on several jobsites in the San Francisco Bay Area, I became so fascinated by this up and coming alternative construction technique that I obtained a first-level certification in ICF installation practices. Other vendors of the "flat" system include Owens-Corning, Polycrete, Quad-Lock, Eco-Block, Amvic Systems, and Formtech.
The waffle system is a variation of the flat system, resulting in a matrix of conjoined horizontal and vertical concrete tubes. Precise rebar placement is more critical in the grid system due to the cavity locations, however concrete use is slightly less than comparable flat systems. American Polysteel Forms fabricates a waffle-type unit measuring 16 inches high by 4-feet long. Horizontal cavities are on 16-inch centers, while vertical cavities are on 12-inch centers. The efficient waffle design results in approximately 25% less concrete by volume per square foot of wall compared to equivalent flat form designs. However, if your rebar spacing calls for dimensions other than 16 inches horizontally and 12 inches vertically, your structural engineer may have to make some adjustments to accommodate the fixed grid spacing waffle pattern. Other popular waffle designs include, Reward, Therm-o-Wall, and ICE Block.

The screen grid version is an extension of the grid system, except that each vertical and horizontal member is fully isolated (except at intersections), creating fully encapsulated concrete members. While this system uses even less concrete than the waffle system, proper consolidation is particularly critical. Without a proper slump, air pockets can easily accumulate in the horizontal or vertical members, weakening the wall system. If the mix is too wet, then the concrete will not have sufficient final strength. Products in the screen grid category include: Conform SWF, Faswall, and Reddi-Form.
Finally, the post and beam systems that represent the minority of ICF types, have vertical concrete posts, with periodic horizontal "beams" at key load points and across the top of the wall. One such manufacturer is Amhome.
Advantages of ICF's
ICF's have many advantages over traditional construction materials. Frequently cited beneficial characteristics include:
Superior strength
Inherent resistance to destructive natural forces
Excellent sound attenuation
Impervious to rot, decay, and termites
High fire resistance
Energy savings of 25-70% depending on location
Consistent indoor comfort due to high thermal mass and low permeability
Structural longevity
Consistency in product and application
Maintenance-free
Architecturally "substantial" appearance due to thicker walls vs. traditional 2x4 or 2x6 construction
Negligible outgassing - no use of formaldehyde during manufacturing process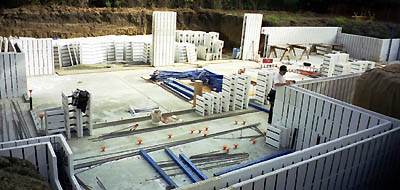 Interestingly, an overwhelming majority of ICF homeowners consistently site comfort, noise reduction, strength, and energy efficiency as the top four benefits realized in their new homes.
Since most people have never seen ICF's, think of them as giant Lego® building blocks – just like the kinds your kids play with, only on a larger scale. Once a suitable foundation or footing has been poured, ICF's are stacked in staggered courses to form basements, garages, and first and second story walls.
The Arxx system described earlier, for example, uses blocks that are roughly 16-3/4" high by 4 feet wide. Other systems have slightly shorter heights. In the former, six courses are required for a typical 8-foot wall resting on a slab-on-grade (SOG). Starting with square pre-fabricated 90-degree corners, the ICF's are laid out along the building chalk line one course at a time. As each course is laid, horizontal rebar snaps cleanly and consistently into place, locking the blocks together and providing ultimate tensile strength for the concrete. Subsequent courses simply "snap" into place creating flush joints both vertically and horizontally. No "buttering" of joints is required as is typical of traditional concrete block walls built with cement mortar units (CMU's).
With experience, this system is so fast and efficient that builders erect entire structures in as little as one to two weeks, saving greatly on field time. In addition, since the ICF's naturally have over 2" of polystyrene insulation on either side, concrete can be poured even in sub-freezing conditions – something difficult to do with traditional wood forming systems.
New developments such as bullnose adjustable angled corners, pre-fabricated 45-degree and 90-degree corners, end caps, brick ledges, and height adjusters allow virtually unlimited flexibility,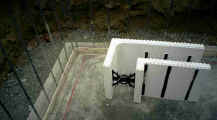 including bay and bow windows, stepped foundations, brick and stone veneers, and walls of arbitrary height – all cast with poured-in-place concrete.
Integral or snap-in-place plastic or metal webs facilitates wallboard and exterior finish attachment at as intervals as close as 8 inches, depending on vendor. Coupled with the 4"-5" of EPS insulation, an 8-inch core wall assembly has over an R-22 rating. However, due to its huge thermal mass compared to a traditional wood wall, it performs equivalent to a wooden wall assembly with an R-50 rating – if such a thing could be built. Since the wall system is virtually impermeable to moisture and air infiltration, no additional housewrap or moisture barrier is required, saving yet another step in the construction process. However, since the resulting home is very "air tight," proper ventilation, including air-to-air heat exchangers is absolutely critical to ensure an ample supply of fresh exterior air and exhaustion of stale indoor air. Without proper ventilation, unhealthy levels of indoor air pollution will accumulate. Of course, an air exchanger is a smart idea for any tight house, whether made from wood, steel, or ICF's.
Until you see this technique for yourself, it is difficult to describe the sense of satisfaction one feels when stepping inside a home built with ICF's. Assuming double-paned windows have been installed and ample floor and ceiling insulation exists, outside noise is virtually negated. Since ICF's have a superior Sound Transmission Rating of 48-50 depending on the wall thickness, typical outside noise simply cannot penetrate through the structure to any significant degree. For this reason, many newer hotels located next to freeways or airports are now turning to ICF's to provide superior sound deadening qualities while allowing their patrons to sleep easily at night.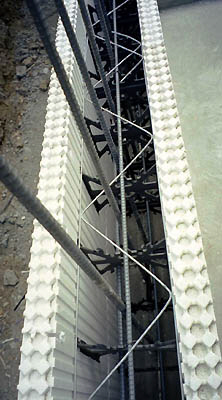 In addition, since ICF's offer tremendous thermal mass, the inside temperature of the structure remains very constant...and since there is little to no air infiltration or exfiltration, the "draftiness" often encountered in many homes is reduced substantially, if not altogether. Temperature differentials from floor to ceiling are 1-2 degrees F. in ICF homes, compared to 5-10 degrees F. in traditionally framed homes.
Unlike conventional wood construction, ICF's when covered with fire-rated gypsum provide a 2-4 hour firewall, which makes them an excellent choice from a safety standpoint.
Industry Resistance to ICF's
These products sound superior to other construction techniques, so what's the catch? Since they are "unconventional," many municipalities and building inspectors may not be familiar with them. Out of fear or lack of education, they may unjustly challenge their use. Furthermore, many architects and structural engineers may not be comfortable with this technology unless they've had special training or have designed structures using ICF's in the past. Since special certification is required to ensure proper installation, your choice of general contractors may also be limited to those who have installed ICF's in the past. In addition, manufacturer associations with competing wall forming systems (such as wood and steel) will downplay the benefits of ICF's since they directly compete for a finite market share. In this vein, it is essential to understand that ICF's are not clearly superior in all applications and, generally, a given structure will likely contain elements of many building products, each chosen for their suitability and cost effectiveness.
More important, however, is that certain states -- particularly where high levels of termite infestations are common -- have banned ICF's from underground use in basements and foundations. Unfortunately, the reasons have little to do with the ICF's themselves, which inherently do not provide any attraction or nutrients for termites. Rather, termites in search of wood products and cellulose can tunnel through the EPS insulation to their source of food, remaining undetected. The ICF industry is actively working to educate building departments and code writers. However, due to this confusion, it is imperative that you consult with your building department prior to designing a structure with sub-grade ICF's just in case your local code prohibits their use.
Fortunately, ICF manufacturers are working on a variety of possible solutions to these issues, including research into alternative exterior substances and boron impregnated polystyrene, as well as visual "inspection" strips above grade that could help to reveal the presence of termite tunnels.
In either case, it is imperative to follow good building practices to mitigate possible insect infestation. Never dispose of wood or wood by-products at the construction site or near the foundation. These will rot over time and become a haven for termites and other insects. Consider also whether treating the soils prior to construction is permitted as way to discourage termites. Plus, with the increasing use and skill at using steel framing and trusses in residential construction, the use of wood can be all but limited to the very minimum, such as subfloor plywood, roof and wall structural sheathing, and interior trim. Eliminating the source of "food" is the best precaution against termites in the first place.
Another potential issue with ICF's, particularly in high seismic zones, is the availability of very wide internal cavities. In California where major faults are often within just a few miles of high density populations, the structural aspects of cast-in-place concrete wall systems can be impressive. As stated earlier, many home basements have vertical rebar every 6 to12 inches, sometimes as thick as #8 or larger. Depending on lateral and other loads, horizontal rebar may also be specified on 8 to 10-inch centers, making for a "cramped" cavity wall. Often the concrete thickness for such walls can be 10 -12 inches – which exceeds the interior dimensions of many of the available ICF flat block systems on the market today. For wide walls, panel or plank systems may be required.
However, since ICF webs can also help to ensure consistency in rebar placement, consult with your structural engineer to see if your situation can be handled with a 6" or 8" internal cavity thickness. Often, simply by specifying a certain concrete strength…or adding extra rebar can make up the required difference.
During the placement of concrete, proper attention to workmanship is critical, since voids in the concrete are not visible from the outside and could impact the structural integrity of the wall, lintels, and beams. For this reason, proper concrete consolidation is essential. Sufficient resources must be on hand when pouring. Starting from the bottom of the form and working your way up, tap and vibrate each lift of cement to ensure that no trapped air or voids remain inside. An orbital sander or bladeless reciprosaw has proven to be an effective consolidator when used carefully on the outside of the form. It is also important to ensure that the cement fully surrounds and "grips" the rebar to provide embedment and tensile design strength, thus reducing premature failure.
Use of additives are possible, such as Fibermesh. While Fibermesh isn't required, it can help to improve the consistency of the concrete mix…and keep it intact as it's poured from the top of the wall. Millions of tiny glass strands provide localized tensile strength and shrinkage crack control, resulting in a water-tight, crack-free structure when combined with proper steel reinforcement. Fibermesh combined with additional steel also helps to prevent diagonal shear cracks at window and door openings, which tend to be weak spots in the wall. Since Fibermesh only adds a few dollars per cubic yard to the cost of cement, it's a small price to pay for the peace of mind of knowing that the very best products are inside the wall. Doing this will result in a virtually indestructible wall that will last for many generations, if not hundreds of years or more.
Considerations of Electrical and Plumbing in ICF Homes
Another consideration of ICF construction is the handling of electrical wiring and plumbing. The first step is to minimize the amount of plumbing and wiring that must be placed on typical ICF exterior walls. This can generally be accommodated in the design process if ICF's are assumed from the start. However, since a certain amount of plumbing and electrical wiring will be unavoidable, particularly in kitchens where the sink and dishwasher often face an outside window, provisions for water supply, waste and venting are essential. Fortunately, the EPS thickness on many systems is as much as 2-5/8" which allows just enough room for 1-1/2" pipes (allowing for coupling diameter). Electrical wiring can be slipped into "routed" chasteways in the EPS itself. Due to the difficulty in changing wiring after the fact in an EPS structure, consider using flexible or rigid conduit on these walls along with oversized receptacle boxes. This gives you the flexibility to change the wiring in the future such as adding a three-way switch – or another switched lighting circuit -- since you have no way of predicting what the needs of a particular room may be 10 or even 5 years down the road. Conduit also protects the wire better from accidental puncture. In addition, providing ample receptacles for telephone, cable, and future communications connections is wise. Again, providing some metal or plastic conduit for this purpose is smart planning and an inexpensive way to future-proof your ICF home.
Additional Considerations
Although ICF's are extremely flexible and are limited mostly by your imagination, there are some situations where traditional stick framing or steel may make more sense, even if used in isolated applications in conjunction with ICF's. These include:
When less than 12" is required on either side of a window, such as in a bay window arrangement
When a second story wall is not bearing down on an ICF load bearing wall
Where arched or curved transom windows are used
Porches and popouts
Walls with minimal width which do not have adequate shear properties (in which case steel I beam assemblies may be specified)
Gables in uninhabited attics
The notion that ICF houses look "boxy" or rectilinear is false. Although some early simple designs did have a flat "two dimensional" appearance, a quick look through more recent ICF home designs quickly dispels this myth. In fact, many of the homes have exciting and intricate architectural elements and contours reminiscent of fine European villas, including even curved walls. To get the most out of an ICF design, it is essential that the designer or architect is familiar with the product and can lay out the home with an optimal design that has both practical field installation implications as well as high curb appeal. The best designs are those where the ICF was planned in from the start. That way wall lengths, heights, and position of doors and windows can be planned according to convenient form dimensions, reducing on-site labor and cutting of forms.
For More Information
Without endorsing specific products, there's no question that you should seriously consider and evaluate the use of ICF's for your next home. John Wencl of Plyform and Supply, Inc. in White City, Oregon is a field expert on ICF systems and has worked with many different systems on the market. As a result, he offers a well grounded perspective on the pros and cons of the major systems on the market today. He also has extensive background in quality control and is dedicated to very high customer satisfaction (Email: wenclpfs@internetcds.com) Over the years, he has developed a superior knowledge of these products, their advantages, and limitations. He is an excellent resource of information and is a regional instructional trainer on ICF systems as well. In addition, for those interested in obtaining on-going, in-depth understanding of ICF's, visit the website www.icfweb.com which has expert advice and guidance in this area. Also highly recommended is Pieter VanderWerf's outstanding text book reference, Insulating Concrete Forms. Pieter is a leading ICF expert and has authored numerous books and papers on the subject.
The structural integrity, energy efficiency and comfort factor, as well as resale value of ICF homes offers an exciting alternative to traditional home construction. Several studies by the US government are now underway to better understand and document the attributes of ICF construction, including scientific energy comparisons to identical homes -- one built with ICF's and the other built with conventional wood framing. For reference, the following comparison chart from Building Technology compares typical ICF performance to wood-frame construction.